/?php the_title(); ?>
The Route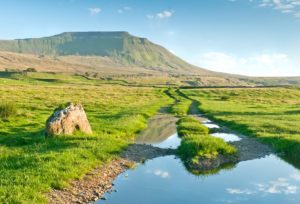 Yorkshire's Three Peaks form a triangle and cover a distance of 29.6 miles when tackled from Ingleton. If you prefer to do the traditional distance then get a lift to The Old Hill Inn at Chapel le Dale and begin by walking up Ingleborough on the signposted route – there is very limited parking at this location.
The route begins at Ingleton's Community Centre where there is plenty of parking.  A short walk up the road leads you to Fell Lane and the beginning of the route up Ingleborough.  The route to the summit is approximately 3.5 miles with an elevation gain of 2,339ft.  Ingleborough's summit has a long broad plateau and on clear days it definitely worth pausing to take in the stunning views.  From the summit the route heads down to Horton-In-Ribblesdale where there are public toilets and a couple of public houses.
Leaving Horton-In-Ribblesdale the route then tackles Pen-y-ghent, the smaller of the Three Peaks standing at 694m/2277ft.  There is a bit of a scramble towards the top followed by a lovely paved path to the summit.  Once at the summit pop through the hole in the wall and follow the Pennine Way sign – Horton in Ribblesdale.  From here the route is then signposted Yorkshire 3 Peaks – High Birkwith.  Eventually the route meets the B4679 – turn right onto the road and continue until reaching Ribblehead viaduct.  Be aware, this road is extremely busy at weekends with walkers, cyclists, motorbikes and cars.
At Ribblehead you will find a mobile tea van for refreshments.  Whernside whilst being the tallest of the Three Peaks at 736m (2415ft) is, you will be pleased to hear, the easiest to climb.  Once at the summit there is a 3.5 downhill section bringing you out on the B6255 and opposite The Old Hill Inn Pub where walkers are always welcome (check website for opening times).  At the road turn right and walk approximately 1.8 miles before turning right into Chapel-le-Dale.  From here it is a flat/downhill 4 miles back to the village of Ingleton and the Community Centre.
Once back in Ingleton you will find a range of pubs and restaurants where you can eat, recover and reflect upon your epic day!